As a University of Chester student, your safety is extremely important to us. In 2021, we ran an all student Campus Climate Survey to gather student opinion on a wide range of issues, including personal safety, unacceptable behaviour and student concerns.
Following this survey and through funding received through the Safer Streets initiative, we've implemented a number of initiatives at the University of Chester to make you feel as safe as possible at our sites:
Hollie Guard
All students and staff have free access to the personal safety app Hollie Guard.
The Hollie Guard app has many useful features, including:
Alert – Pressing the alert button sets off an alert and activates your phone's camera, sending a message and recording to your emergency contacts.
Meeting Timer – If you feel like you're entering a potentially dangerous situation, you can set a timer. The timer will countdown until you deactivate it. If you don't deactivate it, it will raise an alert.
Journey – You can set a start and end point for your journey. The app will then monitor your journey and alert your contacts when you arrive or if you raise an alarm.
Download the app now:
Increased CCTV and lighting
New lighting was installed across all Chester sites as a direct result of your feedback:
68 new lighting columns and 52 new wallpacks were installed at Exton Park
48 new lighting bollards and 32 wallpacks installed at Kingsway
26 new wallpacks were installed at Queen's Park.
Safe Spaces
The University partnered with 13 local businesses across Chester to provide our students with Safe Spaces should they ever feel they are in danger.
This means that if you're ever in a situation where you feel vulnerable and you need a safe space, you can visit any of these local businesses and you'll receive help and support. In addition to providing immediate refuge, these Safe Spaces will be able to signpost or refer you to support services within the University and externally.
The venues range from local shops and churches to pubs and restaurants and the dedicated safe space Cafe 71, which means you'll have access to at least one Safe Space at different times throughout the day.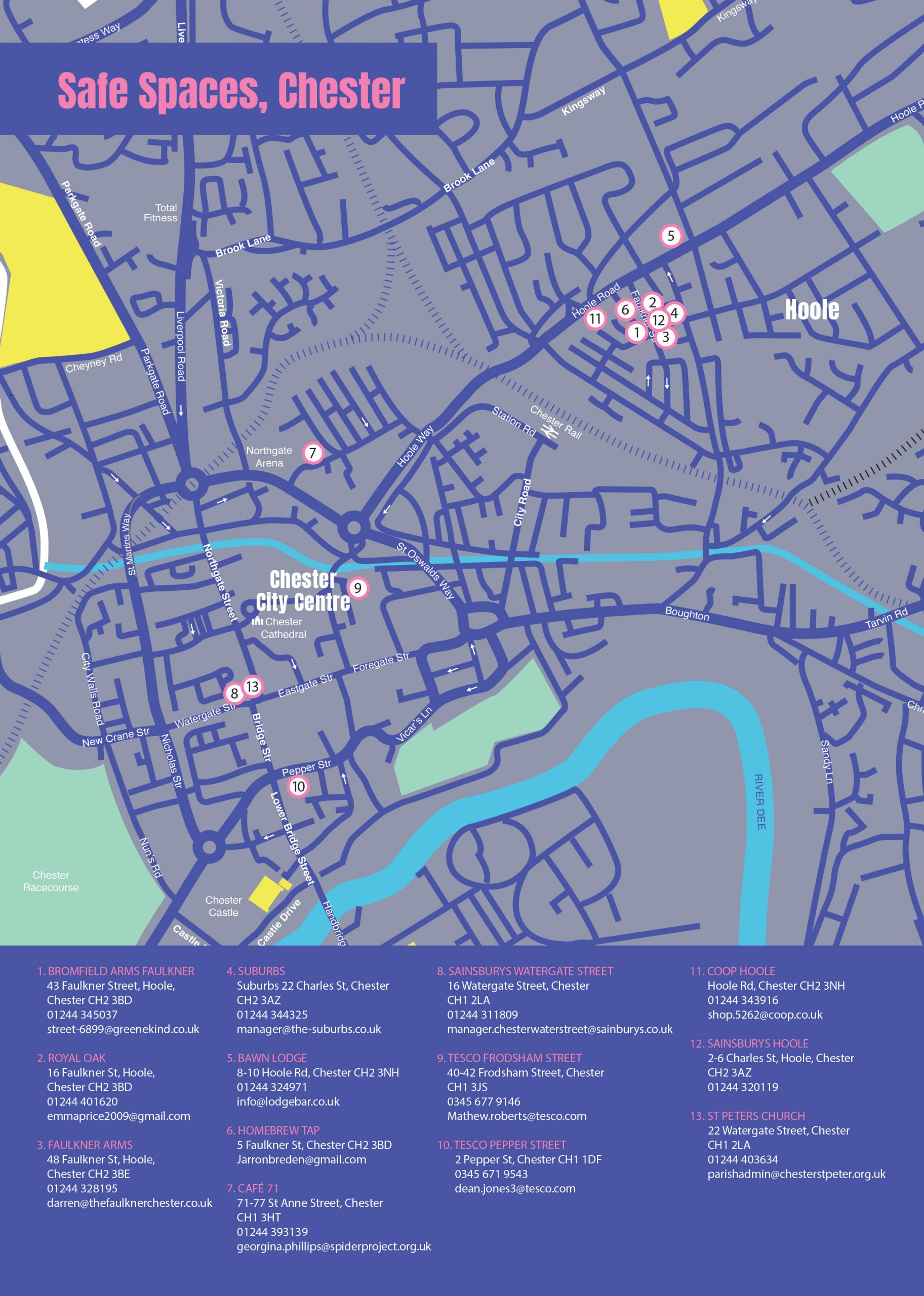 Report a Concern
Report a Concern is our internal reporting tool for students wanting to report an incident to the University. Incidents might include bullying, harassment or sexual violence.
You can report an incident anonymously or provide your details if you wish to discuss the incident with a staff member who can explain your support options. You can access the Report a Concern tool here.
Consent and Healthy Relationship Workshops
As part of our Citizen Student Strategy we want University of Chester students to make a positive impact on society. The conversation around consent and healthy relationships is growing and we want to help our students understand why. The results of our Campus Climate survey highlighted that UoC students believe education is key in prevention and that there is a desire for this across campus.
Over the next academic year, we will be offering face to face "Consent and Healthy Relationship" workshops to over 200 Key Representative Students, including Society Leaders, Sports Captains, SERs, Peer Mentors and many others.
The workshop will cover what we mean when discussing consent, what constitutes a healthy relationship, sexual violence and the impacts of trauma. As a result, we will encourage our Key Representative Students to engage in conversations with fellow students on this topic and have the confidence to challenge negative behaviours or beliefs.
Please contact k.moore@chester.ac.uk to book onto a workshop or visit our Events pages to check out details of upcoming sessions.
Taxi Scheme
The University has a partnership with local taxi firms where students can show their student ID card to get home if they feel unsafe.
This means that if you find yourself in an unsafe situation and you don't have the money to get home, through this scheme you'll be able to get to a place of safety quickly and safely if you find yourself in a vulnerable situation.
This could be your student accommodation, a Police Station or a local hospital. Taxi firms on the scheme include King Kabs (Chester), 01244 343434, Abbacars (Warrington), 01925 444444 and Direct Taxi (Warrington), 01925 244244.
How it works:

1. Call a taxi using one of the relevant numbers listed below, quoting 'University of Chester Safer Taxi Scheme' and book your journey.

​2. You'll receive a text from the company when your taxi has been dispatched, with details of the car and driver. 

​3. At the end of your journey show the taxi driver your UoC Student ID or Student ID on the University app for them to make a note of (this is really important, as your ID proves you're a student at UoC. Without it, you won't be able to use the service).
​
4. The taxi firm will charge The University of Chester for the fare. There is a maximum fare of £25 for any journeys on the scheme.

5. You will be invoiced by the University for any journeys you take via the Safer Taxis scheme.
Sexual Violence Liaison Officer (SVLO) Service
The SVLO service supports students who have experienced sexual violence or harassment. There are just under 20 SVLOs, who have all undergone accredited training to prepare them for their roles.
SVLOs will listen non-judgementally to students making disclosures and inform them about their report and support options. The service is student-led, so any actions for the SVLO are made in agreement with the student. Find out more.
Education
As highlighted in the Campus Climate survey, students feel education is a key part of keeping students safe. The Safer Streets funding led to the rollout of the Tackling Harassment: Promoting Cultural Change in Higher Education online training package.
The training covers Bystander Intervention and Handling Disclosure topics. It's available for all staff and students, but Key Representative Students would find this training particularly beneficial. In addition, there is an online Consent training module, designed to provide students and staff with the skills to understand and practice consent.
In partnership with Recovery Connections, "Recovery Ally" online training sessions will be available to students throughout the year. The training is for those looking to gain an understanding of what a person in recovery from substance misuse may experience. Not only does this training create a supportive environment for students currently in recovery, but it is also particularly good for students studying relevant courses or pursuing careers in this area. 
Posted in Support and Opportunities