As a University of Chester student, your safety is extremely important to us. In 2021, we ran an all student Campus Climate Survey to gather student opinion on a wide range of issues, including personal safety, unacceptable behaviour and student concerns.  
Following this survey and through funding received through the Safer Streets initiative, we've implemented a number of initiatives at the University of Chester to make you feel as safe as possible at our sites:
Hollie Guard
All students and staff have free access to the personal safety app Hollie Guard.
The Hollie Guard app has many useful features, including:
Alert – Pressing the alert button sets off an alert and activates your phone's camera, sending a message and recording to your emergency contacts.
Meeting Timer – If you feel like you're entering a potentially dangerous situation, you can set a timer. The timer will countdown until you deactivate it. If you don't deactivate it, it will raise an alert.
Journey – You can set a start and end point for your journey. The app will then monitor your journey and alert your contacts when you arrive or if you raise an alarm.
Download the app now:
Increased CCTV and lighting
New lighting was installed across all Chester sites as a direct result of your feedback:
68 new lighting columns and 52 new wallpacks were installed at Exton Park
48 new lighting bollards and 32 wallpacks installed at Creative Campus Kingsway
26 new wallpacks were installed at Queen's Park.
Safe Spaces
The University partnered with 13 local businesses across Chester to provide our students with Safe Spaces should they ever feel they are in danger.
This means that if you're ever in a situation where you feel vulnerable and you need a safe space, you can visit any of these local businesses and you'll receive help and support. In addition to providing immediate refuge, these Safe Spaces will be able to signpost or refer you to support services within the University and externally.
The venues range from local shops and churches to pubs and restaurants and the dedicated safe space Cafe 71, which means you'll have access to at least one Safe Space at different times throughout the day.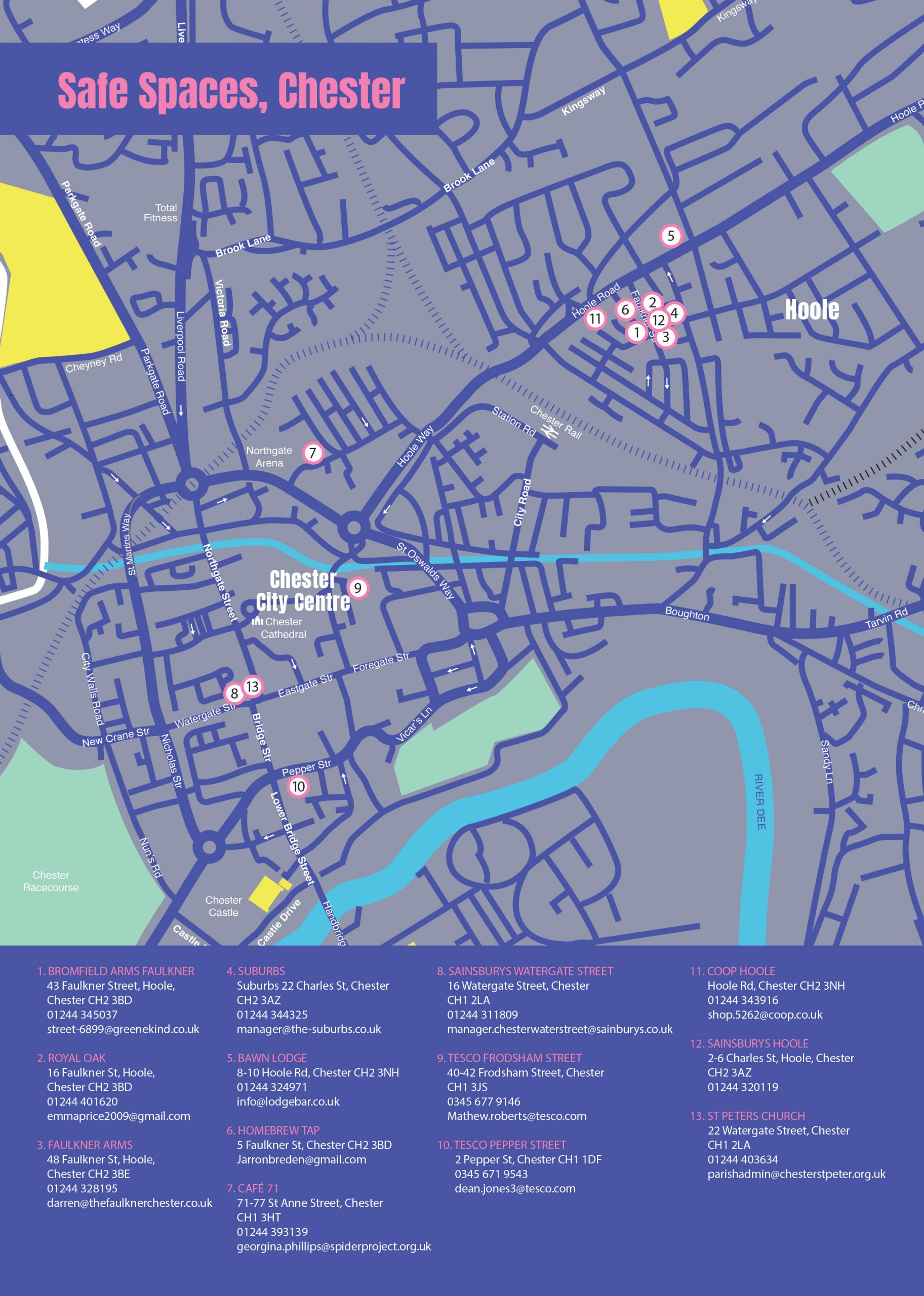 Report a Concern
Report a Concern is our internal reporting tool for students wanting to report an incident to the University. Incidents might include bullying, harassment or sexual violence.
You can report an incident anonymously or provide your details if you wish to discuss the incident with a staff member who can explain your support options. You can access the Report a Concern tool here.   
Sexual Violence Liaison Officer (SVLO) Service 
The SVLO service supports students who have experienced any form of sexual violence. The team have all undergone comprehensive accredited training to prepare them for their role.
SVLOs will listen without judgement and explain the different support and reporting options available to the student. The service is student-led, so any actions for the SVLO are made in agreement with the student. Find out more.  
6 – 10 November is Northwest Sexual Violence Awareness Week. Local partners and specialist organisations will join us in raising awareness of sexual violence, what support is available and info on reporting options. Keep an eye out on our Events pages or via the our Student Shout Out newsletter for the events planned for the week, including the Reclaim the Night March and Vigil.
Education
As part of our Citizen Student Strategy we want University of Chester students to make a positive impact on society. The conversation around consent and healthy relationships is growing and we want to help our students understand why.
We offer "Consent and Healthy Relationship" workshops to students, where we discuss consent, what makes a healthy relationship, sexual violence and the impacts of trauma. In addition, there is an online Consent training module based on our workshop, designed to provide students and staff with the skills to understand and practice consent.  Click here for our online workshop or visit our Events pages to view upcoming in-person events.
The Campus Climate survey highlighted that students feel education is a key part of keeping students safe. The Safer Streets funding led to the rollout of the Tackling Harassment: Promoting Cultural Change in Higher Education online training package.  The training covers Bystander Intervention and Handling Disclosure topics. It's available for all staff and students, but Key Representative Students would find this training particularly beneficial.
In addition to the online training, we will be running several in person workshops throughout the year, exploring these topics in further detail. Keep an eye on our Events pages to view upcoming in-person events.
Staff training
Educating our staff on student safety is equally important to us as educating our students on these important issues. However, students fed back to us that, although students know about some of these initiatives, they didn't realise the training that had gone into the staff delivering them.
We identified key staff members likely to receive disclosures of sexual violence – known as First Responders. Our First Responders received training developed by leading sexual violence consultancy, LimeCulture, on how to respond appropriately, compassionately and effectively to students making disclosures. This training was further tailored and delivered to other key staff, including security and student services staff. We hope this training will help our students to trust us with their disclosures and to be confident in our ability to support them.
Our team of Sexual Violence Liaison Officers (SVLOs) completed six days of accredited training with LimeCulture – including an exam with a 70% pass mark! SVLOs learnt specialist skills to identify and manage risk, effectively respond to disclosures of sexual violence and facilitate access to support and reporting services. SVLOs have regular opportunities to further their expertise and have received additional training on the judicial system, our internal investigations processes and local services role in supporting victims and survivors or sexual violence.
If you'd like more information on the initiatives discussed in this article, please contact k.moore@chester.ac.uk or visit our Events pages to check out details of upcoming events. 
Posted in Support and Opportunities