In the aftermath of last month's devastating earthquakes in Turkey and Syria, a University of Chester student has shared her experience of how people in her hometown are coping with the disaster's after-effects.
Selin Serbet returned to Gaziantep, Turkey, in February just days after the disaster, armed with supplies to help survivors.
Thanks to support from the University, Selin was able to provide essentials such as food, bedding, and clothing, as well as art supplies to help bring some comfort to the children impacted by the disaster.
Selin, who is currently studying Human Nutrition at the University, said:
When I first went to Gaziantep, what I saw was a disaster zone, rather than my hometown. The fear, desperation, and disappointment in everyone's eyes was evident at every step.

I witnessed first-hand the impact that depriving children of even the most basic requirements created.

On the way from Chester to Turkey I bought necessities such as blankets, warm socks and underwear and because I knew how many children would have been affected, I also took colouring books and crayons with me.

I felt better the more people and animals I was able to help.
Selin teamed up with volunteers on the ground, helping with the packing and distribution of emergency parcels, and was overwhelmed by the support being given to the thousands of people whose lives have been impacted by the disaster.
She said:
I saw for myself how many people need serious help – especially in Alcicek and Baris; so many people have been left homeless.

Elbistan has much worse weather conditions than other provinces, so I did my best to provide food and water to stray animals, but it was never enough.
While Selin has now returned safely to Chester, she has been deeply moved by her experience and is keen to offer more support.
She said:
Through this volunteering project all help and every good deed is appreciated. I would like to say thank you to everyone who has helped and contributed so far, and I hope to be able to take part in more volunteer projects such as this to help people in the future.
For anyone impacted by the events in Turkey and Syria or in need of general support our wellbeing and mental health team are available to help. You can contact them by calling 01244 511550 or emailing infopoint@chester.ac.uk. We also have a dedicated 24/7 student support helpline students can call on 0800 028 3766.

There will also be a peer support group taking place on Thursday 12 March from 12pm – 1pm in the Community Hub at Exton Park. For more information please contact studentexperience@chester.ac.uk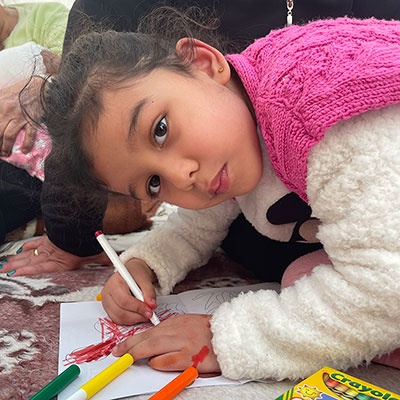 Posted in News/Features